The End of the Harbour, first published in 1968, is an historical novel for children set in Elsie Locke's hometown of Waiuku.
Elsie spent a summer in the town researching the novel which explores the intersection of the Kīngitanga (Māori King movement) and expanding Pākehā settler society.

Plot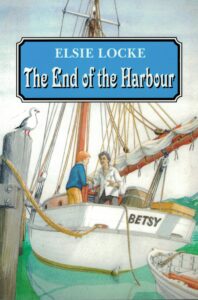 One February day in 1860, the cutter Betsy sails down the calm Manukau Harbour bound for the village of Waiuku. Aboard is 11 year old David Learwood who has traveled from the other side of the world to settle here.
But life is far from calm around the Kentish Hotel where the Learwoods are employed.
Pākehā settlers seek to extend their holdings but Māori fear the loss of their land, and  rumours of fighting in Taranaki cause mounting tension.
David and his new friend Honatana are swept into an exciting chain of events, including the visit of the Māori king, an epidemic of influenza, and  a cattle hunt with a tragic outcome. 
David's mother is fearful and will not go outside the hotel,  but David discovers a fascinating new world.