Looking for Answers: A Life of Elsie Locke. Maureen Birchfield. Canterbury University Press, 2009
Writer and activist Elsie Locke was a remarkable woman whose contribution to New Zealand went largely unrecognised during her lifetime.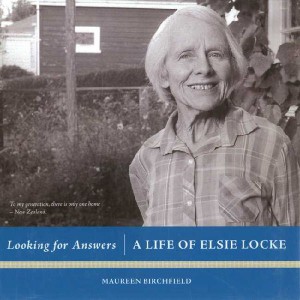 In this insightful and compelling biography, Maureen Birchfield peels back the layers of the public firebrand to find an ordinary woman who negotiated enormous personal obstacles to raise four children while striving tirelessly to improve the world around her. Recently declassified security files confirm that the New Zealand Security Intelligence Service (and its antecedents) had Elsie firmly in their sights, particularly while she was a member of the the Communist Party of New Zealand (1933–56). Incorporating information from these files, Maureen Birchfield delivers a fascinating portrait of a woman ahead of her time.
Read Victor Billet's review in the Otago Daily Times.
Listen to an interview with Maureen Birchfield about researching and writing Looking for Answers on Radio New Zealand.
Purchase a copy of Looking for Answers at Canterbury University Press.
About the author
Maureen Birchfield's life has involved both paid and unpaid work, the latter in such organisations as the Society for Research on Women, the Women's Electoral Lobby, the National Oral History Association of New Zealand and the Trade Union History Project. She trained as a teacher in the late 1950s and taught at all levels, from primary to tertiary, and later worked as an adviser to Massey University's extramural students. Redundancy from her position as Tutor/Organiser for the WEA enabled Maureen to complete a book about her mother, She Dared to Speak: Connie Birchfield's story (Otago University Press, Dunedin, 1998).