Elsie Locke (1912-2001) was a writer, a social historian, one of the pioneers of the New Zealand family planning movement, and an activist for social justice, women's rights, environmental preservation, peace and civil rights. But she is best known as a writer for children. Her children's books and stories have been treasured by successive generations, and The Runaway Settlers (1965) has been continuously in print longer than any other New Zealand children's book. She also wrote copiously for adults: books, journalism, pamphlets and poetry.
Early life
Elsie was born Elsie Violet Farrelly in Hamilton on 17 August 1912, the youngest of six children and a fourth-generation New Zealander. When she was two the family moved to Waiuku, on the Manukau Harbour, south-west of Auckland. Elsie and her siblings had a carefree childhood, exploring a nearby beach and camping in tents during the summer, the kind of simple, outdoor activities that she later organised for her own children.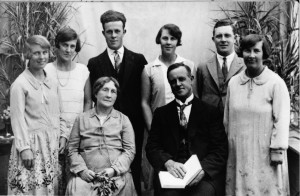 Elsie attended Waiuku District High School, which her father had helped build. By her final year she was the only pupil in her class. Her teachers persuaded her to apply for a scholarship to attend Auckland University College and she became the first member of her family to attend university. Her scholarship covered fees only and she had to find various part-time jobs to support herself until she graduated with a Bachelor of Arts in 1933, at the height of the Depression.
Early political activism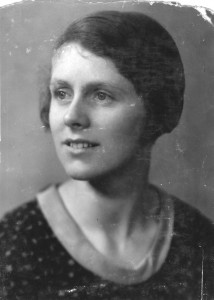 Elsie's experience of unemployment and the plight of others attracted her to the New Zealand Communist Party, and while working part-time at the university library she met Fred Freeman, who had recently returned to New Zealand under an assumed name after four years studying in Moscow. Fred soon moved to Wellington to take over as Communist Party leader, and when Elsie graduated she followed him, and lived there for the next eight years. As a party member she was particularly active in women's issues: she organised the first National Conference of Working Women, was responsible for starting the Working Woman newspaper, and in 1936 became a founding member, then convenor and secretary, of the Sex, Hygiene and Birth Regulation Society, later the Family Planning Association.
Marriage and children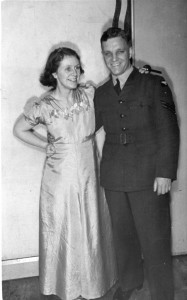 Elsie and Fred married on 4 November 1935, and Elsie's first child, later Don Locke, was born in 1938. It was a difficult marriage, exacerbated by political differences (Fred was hard-line, Elsie a moderniser) and disagreements over starting a family, and they separated before Don was born. Elsie had met Jack Locke, then a Waikato farm worker, in 1936. Following her divorce in 1941, Elsie and Jack married and moved to Christchurch to work (unpaid) for the Communist Party. Jack became a freezing worker and a popular union representative. They lived in Christchurch for the rest of their lives, and had three more children: Keith Locke (1944), Maire Locke, later Leadbeater (1945), and Alison Locke (1952).
Writing and activism
In 1946 Elsie was diagnosed with spinal tuberculosis. She spent the following two years and two months in hospital, most of the time lying flat on her back. Despite this she was very productive, writing articles for the NZ Listener, radio talks and an unpublished novel. It also gave her time to think about politics and her own place in it. From this point her interests turned more to writing, and to social rather than political activism. In 1954 she helped found a performing cultural group, the William Morris Group, named after the English socialist, designer and writer. Performing with them gave her immense pleasure.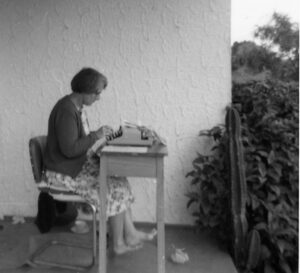 Elsie's political world changed in 1956, after the Khruschev Report had exposed the atrocities committed in the Soviet Union during the Stalinist era, followed by the Red Army's invasion of Hungary to put down a democratic revolution. This led directly to Elsie's break with the Communist Party, and in 1958 she wrote an essay called "Looking for Answers" for the literary journal Landfall, exploring why she joined the Communist Party and why she eventually left it. The following year this essay shared first prize in the first biennial Katherine Mansfield Memorial Award. It also led to a vivid memoir of her years in Waiuku and Auckland, Student at the Gates (1981), which is one of her best pieces of writing.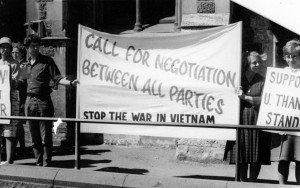 Also in 1958, Elsie became a founding member of the Christchurch branch of the Campaign for Nuclear Disarmament (CND). In 1960, she wrote an article, "View From the Lakes" opposing the raising of Lake Manapouri for a power scheme.
In the early 1970s, Elsie and Jack were prominent in the Avon Loop Protection Association and won a landmark Supreme Court judgment in 1973 against the extension of the Avon Motor Lodge, just down the road from the family home in Oxford Terrace, where they had lived since 1944. Jack set up a neighbourhood recycling point that was well ahead of its time, and in 1995 the Avon Loop community cottage was named after them both.

Elsie continued to write: poetry and prose, fiction and non-fiction, and increasingly for children, initially small pieces for the School Journal. Her first children's book, The Runaway Settlers, a historical novel for children, was published in 1965 and is still in print. Many of her other books for children also deal with New Zealand history, such as The End of the Harbour (1968) and Journey Under Warning (1983). Nature features too, in books such as Look Under the Leaves (1975) and Moko's Hideout (1976).
Awards and recognition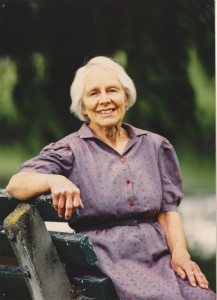 Elsie won numerous awards. In 1987, the University of Canterbury awarded her an Honorary Doctorate of Literature. In 1992, when she turned 80, the Children's Literature Association presented her their Award for Distinguished Services to New Zealand's Children's Literature. That same year, she received the Nada Beardsley Award for Services to the Promotion of Literacy; and in 1995, the Margaret Mahy Award for Distinguished Services to Children's Literature.
In 1996, Joe's Ruby won the Honour Award for non-fiction in the AIM Children's Book Awards, and the same year the University of Auckland honoured Elsie with a Distinguished Alumni Award – which amused her, she said, because she had been 'an undistinguished student'.
In 1997 the Elsie Locke Park was named in her honour, next to the Centennial Pool where Elsie was a regular patron and now incorporated into the Margaret Mahy playground. And in 1999 Elsie received the inaugural Gaelyn Gordon Award for a Much Loved Book: The Runaway Settlers.
The Elsie Locke Memorial Trust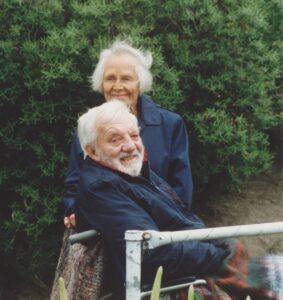 Jack Locke died on 23 October 1996, aged 88, lovingly tended by Elsie. Elsie died on 8 April 2001, also aged 88. Her four children have established the Elsie Locke Memorial Trust in her memory.
In conjunction with the publishers of the School Journal, the Trust runs the annual Elsie Locke writing competition. The winning essay is published in the Journal: writing by school children, for school children, on themes Elsie herself would have approved. She would have loved it.